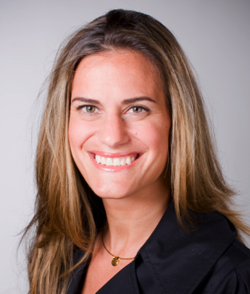 Dr. Rachel West is an integrative family medicine physician and osteopath in Santa Monica.
As a family practitioner, Dr. West specializes in chronic disease, chronic pain states, women's health and childhood Autism. Her Contemporary Medicine practice integrates conventional medicine with alternative therapies such as homeopathy, bioidentical hormones, Iyengar yoga and biodynamic osteopathic manipulation.
To care for special needs children, she uses, among others, the Defeat Autism Now! protocol as well as Amy Yasko genetic testing to treat Autism Spectrum disorders. She is also certified by the American College for Advancement in Medicine in Chelation therapy.
Dr. West is a member of the American Academy of Osteopathy, the American Osteopath's Association, the Osteopathic Cranial Academy and the American College of Osteopathic Family Practitioners. Dr. Rachel West graduated from the New York College of Osteopathic Medicine. Her post graduate education includes family practice internship at Tucson General Hospital, Tucson, AZ, and family practice residency at University of New Mexico in Santa Fe and Union Hospital in Union, New Jersey.
What I Believe
I always believed in diet, exercise,
and empowering others to find their balance and happiness…
Yet I discovered so much more along the way!
I grew up in an osteopathic medical family, but discovered the true beauty of Osteopathy while in school, where I gained a newfound appreciation for true health, beyond the mere absence of disease and pain.
  Although loving all the knowledge attained in medical school through biochemistry or anatomy, I also saw the limitations of the traditional medical paradigm.   I became passionate about Osteopathy in the cranio-sacral field, learning how to help people find their true health. After finishing board certification for family practice, I immediately started to study nutrition and natural medicine. I also became a certified yoga instructor and started studying classical homeopathy.     I opened up a practice in Los Angeles, and even today, I continue studying and keeping up with new ideas for promoting health – while respecting time-tested traditions.    
My experiences – working with the Autism spectrum and becoming a mommy!
I became involved in the treatment of children in the autism spectrum – who are often quite sick. My passion urged me to go deeper into my studies of integrative medicine specifically for autistic children – while this community's cutting edge knowledge has helped me learn about how to help my other patients heal and bloom.   I have learned a lot from all kinds of patients, and I strive to adapt to the needs and the requests that are often expressed to me. I prescribe only treatments I would take myself.   Since recently becoming a mother, I know first hand about pre-natal care and how important being healthy is before getting pregnant! So I hope to have the opportunity to support others through their mothering journey.     I hope I can help you with the insights that only trusting relationships can foster!  
What I do:
I offer comprehensive blood and stool testing, with a holistic interpretation of the results. I offer traditional osteopathic treatments, helping bring about an intricate alignment between physical and psycho-spiritual.   We all have challenges…   I strive to elucidate any ill, whether stomach pains or shoulder pains, that are caused by stress; I find ways to encourage my patients to be their highest selves and live their fullest lives; I support my patients to stay healthy despite life's curveballs!